Bettina John is a performance and installation artist with a diverse practice, including various media like drawing and painting, video and photography, performance art, installation and sculpture.
After having studied fashion design at German art school Burg Giebiechenstein, an art school with similar roots to the Bauhaus, she gained valuable experience in the fashion industry in Berlin and London before deciding to open her career to a more interdisciplinary approach, very much in the Bauhaus tradition.
She went on to study new media art at Goldsmiths University in 2008 and formed an art collective the same year. Goldsmiths reinforced her interdisciplinary way of working and instilled a critical stance to new media. As part of the collective Bettina John started exhibiting and performing. Whilst pursuing her art practice with travel bursaries taking her to New York in 2012 and Rio De Janeiro in 2013, she has also been involved in developing scenography for opera, contemporary dance and theatre.
Bettina John is interested in the process, discovering and uncovering herself and social conditions. Her work resembles that of an anthropologist, investigating the way we live now, particularly in regards to social media, technology and globalisation.
These interests prompted her in 2012 to develop Alter Egos that help her uncovering a hedonist and narcissist, selfie world where it is as simple to reinvent yourself as pressing a few buttons and ticking a couple of boxes. The consequences can be bigger and effect real life rather than just our virtual avatar. With her Alter Egos she goes so far as to explore those consequences.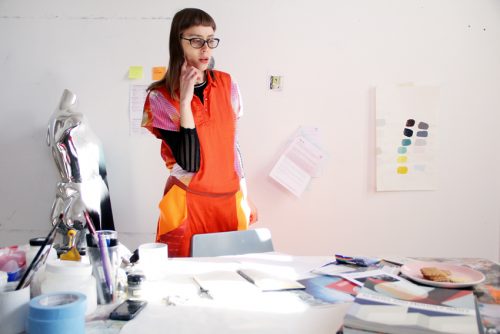 Deutsch
Bettina John ist eine Performance und Installationskünstlerin. Ihre Arbeiten bewegen sich in veschiedenen Disziplinen wie Grafik, Malerei, Video und Fotografie, Installation und Performancekunst.
Sie studierte Modedesign an der Burg Giebichenstein zwischen 2001 und 2006 und arbeitete dann als Modedesigner in Berlin und London. 2008 belegte sie einen Masterstudiengang in Medienkunst an der Goldsmiths University in London. Dort wurde ihr kritischer Blick und interdisziplinäres Arbeiten weiterhin verstärkt. Im selben Jahr gründete sie ein internationales Künstlerkollektiv mit dem an Gruppenausstellungen teilbahm und selber als Performancekünstler auftrat.
Während sie als Künstlerin arbeitete und Anerkennung fand verfolgte Bettina John weiterhin ihre Arbeit als Kostüm-und Bühnenbildnerin, vor allem für Oper, Tanz und Musiktheater.
Bei der Ideenfindung konzentriert sich die Künstlerin erst einmal auf den Inhalt, die Medienwahl ist oft zweitrangig. Das Ergebnis sind Installationen, die Video, Fotografien und Grafiken einschliessen und dann als Bühne für ihre Performancekunst dienen. Im Mittelpunkt steht der moderne Mensch im Kontext sozialer Medien, neuer Technologien und der Globalisierung, womit ihre Arbeitsweise die der Anthropologischen nahe kommt. Ihr ist der Prozess wichtig, ein Prozess, in dem sie sich selbst und die Welt entdeckt und offenbart.
Zu diesem Zweck entwickelte Bettina John in 2012 Alter Egos mit deren Hilfe sie eine narzisstische und hedonistische "Selfie" -Welt aufdeckt.